Emerald, in the ancient times was the name generally used for green stones or even for green glass. The origin of the name alludes to its ancient greek name samaragdos, which means 'green stone'. A flawed stone with a deep green hue is worth more than a light-toned, but clear gem. A flawless emerald is rear – generally every piece has a blemish either splits, inclusions, veils, or gas bubbles, but they don't reduce the value. Chrome is responsible for the specific color and is resistent to light or heat. Though the color of an emerald can be change with extreme heat, these fermented stones have a much lower value. Emeralds are generally set in fine gold. Our advise to you is to take great care with an emerald piece – not only because of it is rare and valuable, but its also extremly fragile.
In 2013, Pantone chose emerald green as the color of the year. This why this past year the red carpet has been full with this color. Green is easy to wear, it comes in all kinds of shades, flatters everybody and is easy to match with other colors. This vibrant hue also attracts a lot of attention. An emerald green evening dress gaurentees you to be noticed.
As Leatrice Eseman, the CEO of Pantone Color Institute said: " Emerald green has a special effect on people". We agree with her statements.
If the color is missing from your warderobe, maybe it is time to recitfy this. If not don't hesitate to wear it more!
Below you will see some photos of celebrities wearing emerald green to inspire you.
Bianca Balti walked along in this gourgeous emerald necklace on the red carpet of Cannes in 2011. It was an appearance to remember…at least but not last because of this beautiful poem of jewelry.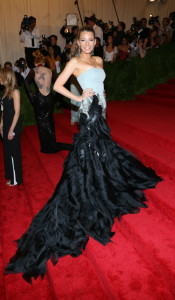 The mock-up of Blake Lively's Gucci Prémiére evening gown worn by her at the MET Gala 2013 is even that gorgeous as the real masterpiece! Thanks to this beautiful gown Blake as mere pan, was elected as Best Dressed Woman of the Gala. We totally agree with this statement – and naturally if the pale green hued dress wouldn't be enough of beauty, we could suggest emerald jewelry for an evening like that.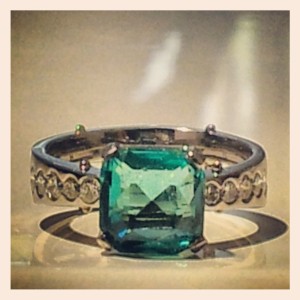 Haes Jewellery 18k white gold ring with 2.5ct columbian emerald stone, haloed by 0.4ct diamonds.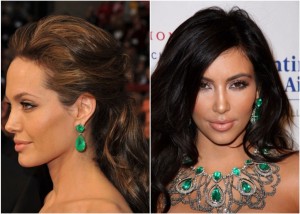 The big fashion houses of Burberry, Gucci or Michael Kors all homages steady to the option of Pantone and therefore dressed their models in the Color of the Year. Good for the fashion-concious, because emerald green suites almost everyone, regardless of age and gender.
The irresistibly huge emerald earrings of Angelina Jolie perfectly matches her timeless finesse. Also is Kim Kardashian's more than 4million dollars emerald and diamond jewelry set beyond imagination. Congratulations Kim for your choice! We hope, once (at least) everyone of us who is interested will learn, how to wear a likely fascinating jewelry.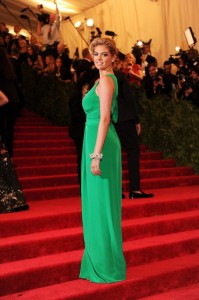 Kate Upton's long Diane von Fürstenberg dress was a bomb-shell to everyone, in which the former Sports Illustrated model realized the sassy style in a low-key way. This unbelieveble transformation makes her more adorable. Long live DVF!
The 2013 Resort Collection of Vivienne Westwood calls the autumn to mind and proves that there are no cold months without emerald green at all. The graceful green hue of the comfy looking coat is almost unites with the soft wool texture make us want to slip into it, hmmmm!